Find more information on how we propose to simplify fares on public transport in Taranaki.
We are suggesting a few changes are made to the public transport fares and zones in Taranaki. Nothing has changed yet and final decisions are yet to be made. Be assured the public will be hearing lots more about this before any changes are launched! Read on to learn more about this proposal.
So what is the change and why are we proposing this?
Fares in Taranaki haven't changed since 2014 - currently we have 25 different fare zones, each with two separate 'rules' for ticketing. Pretty complex right? We think it is time to make bus travel easier and more accessible for everyone, and we are starting with the fares.
For most people the proposed change will bring a welcome decrease in fares. While the maximum increase (for trips within the New Plymouth urban area) is 40c.
We're looking at flat fares across four zones covering the whole region, including the Connector and New Plymouth Citylink services.

What we are considering is a $2 base fare plus $1 per zone boundary crossed when travelling with a Bee Card. (The base fare would increase by $1 if paying by cash).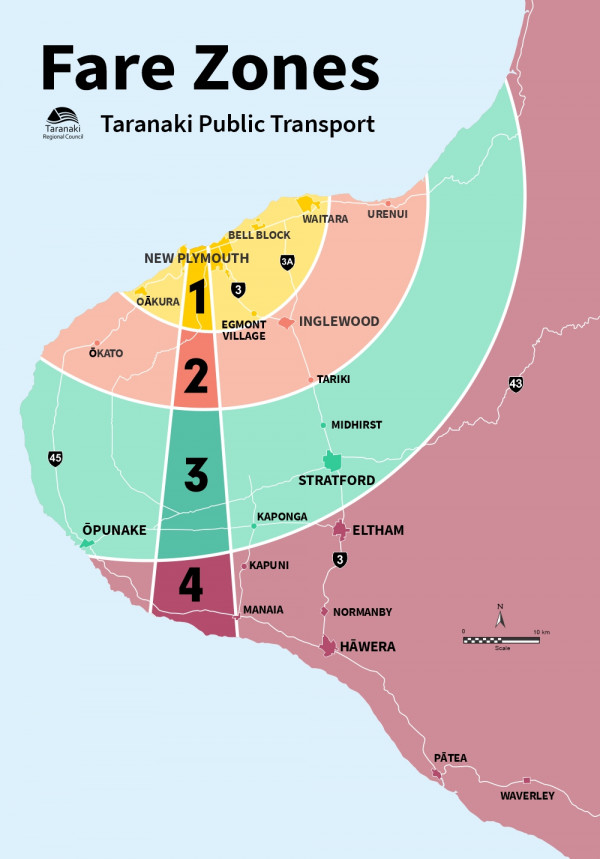 The zones would be pretty big:
Zone 1 would take in the area from Ōakura through New Plymouth and up to Waitara, and out to Egmont Village.
Zone 2 would take in Ōkato, Urenui and Inglewood.
Zone 3 would take in Stratford and Ōpunake.
Zone 4 would include Hāwera and Waverley.
For example, a trip from Waitara to New Plymouth (currently a $6.20 cash fare for an adult) would cost $2 with a Bee Card.
Or if you catch the Connector from New Plymouth to Stratford you would cross two zone boundaries, paying a $2 base plus $1 for each of the two zones, totalling $4 (with your Bee Card). Making it more economical than taking your car.
What about concessions?
There will still be free travel for
under-5s
Registered WITT students
TDHB-booked hospital visitors and patients on the Connector service
Offpeak travel for SuperGold card holders.
What about school students?
These proposed fare changes would apply to all Citylink services, including those carrying school students.
Under this proposal, child-fares on our Citylink services would no longer apply and the standard $2 base fare + $1 per zone crossed would come into effect.
This would mean a decrease in fares for those with school children travelling to New Plymouth from areas such as Ōakura and Waitara, while the maximum increase will be 40c for those travelling with a Bee Card within New Plymouth.
We think this would mean fairer fares for families of school students.
Please note, any school bus services that are provided by the Ministry of Education are not included in this proposal. The Ministry of Education sets the routes and fares for these services, not the TRC. Please refer to their website for more information.