The Council is currently reviewing the Regional Coastal Plan for Taranaki.
The Council is working with the Environment Court regarding Appeals on the Council's decisions of the Proposed Coastal Plan.
The Environment Court received appeals from 10 parties on the Proposed Plan and notices from 19 parties wishing to be party to appeals under section 274 of the Resource Management Act 1991.
The Council will be working with appellants and s274 parties under the direction of the Environment Court to ensure an efficient and smooth mediation process over the following months.
For more information on the Environment Court Process please see the Environment Court website(external link).
The Coastal Plan review process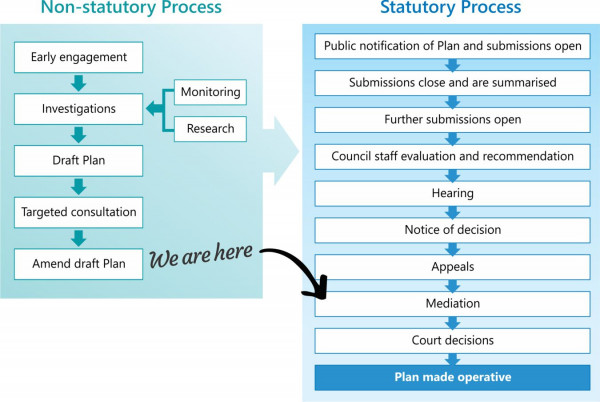 Appeals and Section 274 parties
Appeals | Parties to proceedings
Appeals have been lodged by 10 parties:
Submitter (submitter No.)
Documentation

Climate Justice Taranaki (21)

Transpower (26)

Grant Knuckey (28)

Department of Conservation (29)

NZ Defence Force (33)

Petroleum Exploration
& Production Assoc of NZ (37)

Te Korowai o Ngāruahine Trust (41)

Royal Forest & Bird (43)

Fonterra (47)

Taranaki Energy Watch (51)

These entities have advised they wish to be parties to the proceedings under Section 274 of the RMA:
Fishing industry parties (Fisheries Inshore NZ, NZ Rock Lobster Industry Council, Pāua Industry Council)

Federated Farmers

Fonterra

Greenpeace

Kiwis Against Seabed Mining

Minister of Conservation

Minister of Defence

Minister of Fisheries

Ngaa Rauru

Oil companies (Z Energy Ltd, BP Oil NZ Ltd, Mobil Oil NZ Ltd)

Petroleum Exploration and Production Association New Zealand

Port Taranaki Ltd

Powerco Ltd

Royal Forest and Bird Society

South Taranaki District Council

Spark NZ Ltd

Taranaki Energy Watch

Trans-Tasman Resources Ltd

Transpower NZ Ltd
Council decisions on Proposed Coastal Plan
Hearing documents and maps
Draft Coastal Plan for Taranaki
An interactive map portal has been developed to allow online inspection of the maps associated with the Proposed Coastal Plan. An information sheet in PDF format explains how to use the portal. Click/tap on the links:
Online map portal for Proposed Coastal Plan(external link)
Using the online map portal [PDF, 1.6 MB]
Links to individual maps are also incorporated in the main body of the Plan and its schedules. The maps are also available as PDFs. The 44 maps cover the entire Taranaki coastline from north to south. The exact location of each map can be seen in the index, which also has a legend explaining the colours, shadings and symbols used on the maps.