Wetlands in Taranaki support a diverse array of plants and animals and act as the 'kidneys of the earth'. Wetlands are magical places and beautiful landscapes well worth a visit!
Visit our wetlands
We've put together a selection of publicly accessible wetlands in the Taranaki region. Please see below for descriptions and links for more information and directions to each one.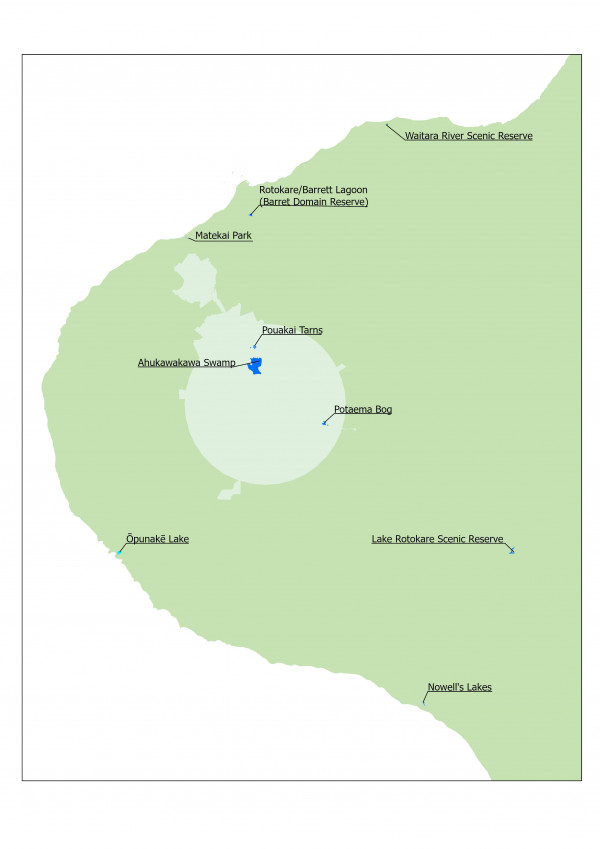 Waitara River Scenic Reserve
This wetland is part of the Waitara River estuary, located approximately 500m upstream from the sea, accessible by a short board walk next to the Waitara Boating Club. The site consists of mudflats which support saltmarsh vegetation, whitebait and wading birds.
For more information on the Waitara River Scenic Reserve please click here.(external link)
Rotokare/ Barrett Lagoon
Located in Whaler's Gate, New Plymouth, the Barrett Domain Walkway provides the perfect accessway to this suburban wetland. Many native canopy trees surround the area, and the wetland is a wildlfie refuge and food source for water birds.
Please visit here(external link) for more information on Rotokare/ Barrett's Lagoon.
Matekai Park
Located in Ōakura, the Matekai Park Reserve boasts a large wetland area surrounded by bush, walking tracks, bridges and open spaces. There are many tree species to be found, and this wetland is home to a number of rare bird species.
To find out more about the Matekai Park Reserve please click here.(external link)
Pouakai

Tarns

Known for its famous reflection shots of Taranaki Maunga, this popluar wetlands area is home to unique vegetation. Accessible via the Mangorei Road Track, enjoy spectacular views of the maunga and one of New Zealand's highest wetlands.

For more information on the Pouakai Tarns please visit here.(external link)
Ahukawakawa Swamp
Sitting at an altitude of 920m, the Ahukawakawa Swamp is located in Te Papakura o Taranaki (formerly Egmont National Park). It was created by a lava extrusion and is known as the Dome. This wetland contains a wide range of plants that can survive at very low temperatures in acidic conditions.
To learn more on the Ahukawakawa Swamp please click here.(external link)
Potaema Bog
This little gem of a wetland sits among the trees on the lower slopes of Taranaki Maunga. Easily accessible and wheelchair friendly, the Potaema Track starts at the Potaema Picnic Area.
For more information on the Potaema Bog please click here.(external link)
Lake Rotokare Scenic Reserve
These extensive wetlands are located in South Taranaki, 12km from the township of Eltham. The habitat consists of raupo, flax, and
pukatea/kahikatea and is home to notable fauna such as fernbird, spotless crake, eels and banded kokopu.
To find out more about the Lake Rotokare Scenic Reserve please visit the Rotokare Scenic Reserve Trust website.(external link)
Ōpunake Lake
A tranquil wetland near Ōpunake Beach.
Please visit here(external link) to find out more about Ōpunake Lake.
Nowell's Lakes
Located on Rifle Range Rd, off Manawapou Rd, Hāwera, these two beautiful ground fed freshwater lakes are home to an array of fish, plants and birdlife. The lakes are a known breeding habitat for Australian Bittern, so if you are lucky you may be able to spot these globally endangered birds.
For more information on Nowell's Lakes please visit here.(external link)