Despite a decidedly soggy finish to the year in places, 2020 rainfall was at or close to normal annual levels at most of our monitored sites.
The year's totals ranged from 79% to 117% of normal, with the average bang on 100%. Most sites were above or near normal except for North Egmont (79%), Stratford (93%), Tongaporutu (90%) and Waitōtara (87%).
December was much more of a mixed bag. Totals ranged from 90% to 187% of normal, with an average of 142%. Duffy's farm (near Whareroa) recorded 170mm, or 187% of its normal December ranfall. Omahine, inland from Pātea, recorded a new December record of 215.5mm, easily eclipsing its previous maximum of 185.5mm in 2011. Stratford and North Egmont were the only sites below normal, with 95% and 90% respectively.
Annual rainfall maps & December 2020 maps
Annual rainfall maps & December 2020 maps [PDF, 822 KB]
What you should know:
The site maps show data from a selection of the sites we monitor, but not all of them.

The distribution maps are based on mathematical modelling and may not accurately represent actual rainfall in some unmonitored areas.
Click on each map for larger version.
MONITORED SITES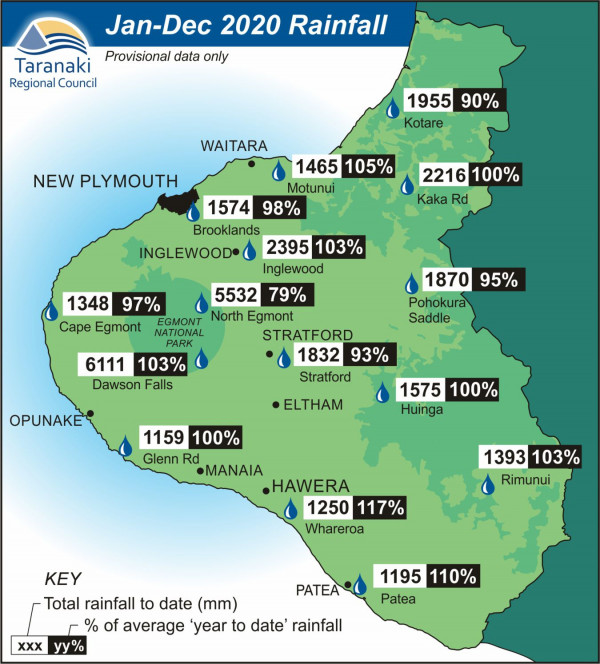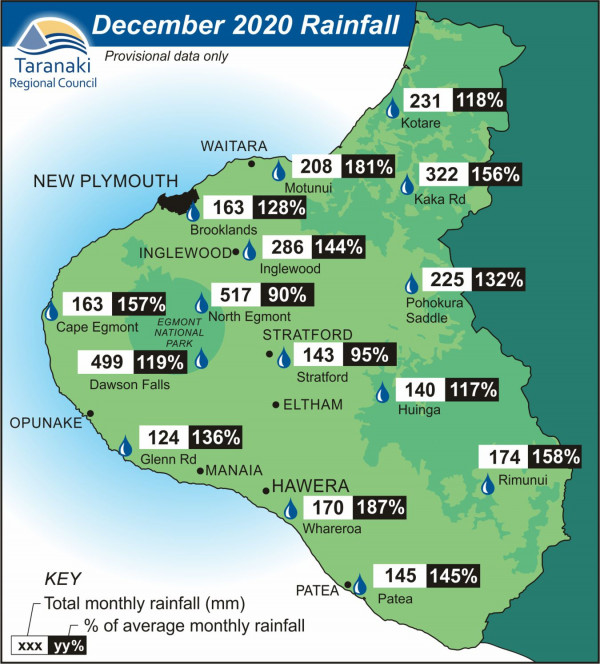 RAINFALL DISTRIBUTION