A new predator control project by Taranaki Base Hospital staff aims to restore the area's native bush and birdlife.
Clinical support officer John Whelan has seen first-hand the positive impact predator control is having in parts of Taranaki. Already trapping at home, he was keen to take it a step further.
"I do a lot of tramping, so I have seen the traps out in the bush. I knew the hospital had some bush and thought we could do the same here."
He spoke to the hospital's Sustainable Health Network, which had also been looking at ways to improve the bush. Between the carpark and Seaview Road and adjacent to a small stream, the bush is classed as a Significant Natural Area by the New Plymouth District Council.
They contacted Towards Predator-Free Taranaki and urban project lead Chauncy Ardell recently joined John and members of the Sustainable Health Network to set up 12 traps.
Chauncy showed them how to safely check and reset the traps, which mainly target rats, and how to record checks and catches on trap.nz.
A roster has been set up among Sustainable Health Network volunteers, both clinical and non-clinical staff, to ensure the traps are regularly checked.
Chauncy says while Westown is one of New Plymouth's more active trapping suburbs, the 12 new traps will be a welcome addition and could make a real difference to predator numbers in the area.
He says the hospital bush has the potential to be a great urban restoration project. Native birds such as tūī, kererū and silvereyes are already making a home for themselves among the tōtara, puriri, kauri and nīkau – among others.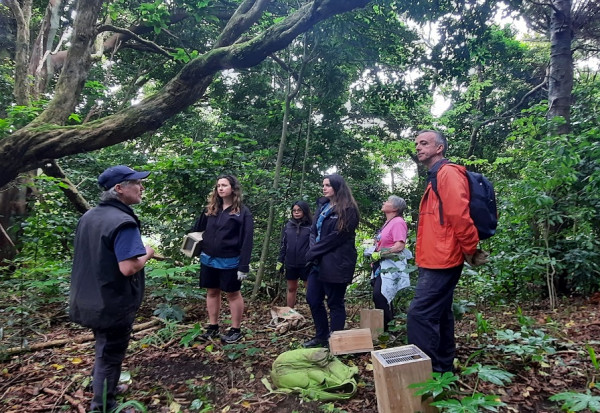 Taranaki District Health Board Sustainability Lead Maria Cashmore says aside from the environmental benefits, thriving green spaces have numerous health and wellbeing benefits. The District Health Board has a range of sustainability initiatives under way, including orchards, healing gardens and a sustainable vegetable garden.
Towards Predator-Free Taranaki is always looking for individuals, groups and businesses keen to look after traps in public spaces and reserves. Anyone interested should get in touch with Chauncy or message the Towards Predator-Free Taranaki Facebook page.
Residents can also do their bit by trapping at home. Backyard rat trap packs are available for $10 from Hunting & Fishing New Plymouth, Mega Mitre 10 at the Valley or Mitre 10 St Aubyn St. During term time many local schools also sell them as fundraisers.