Christmas buses specials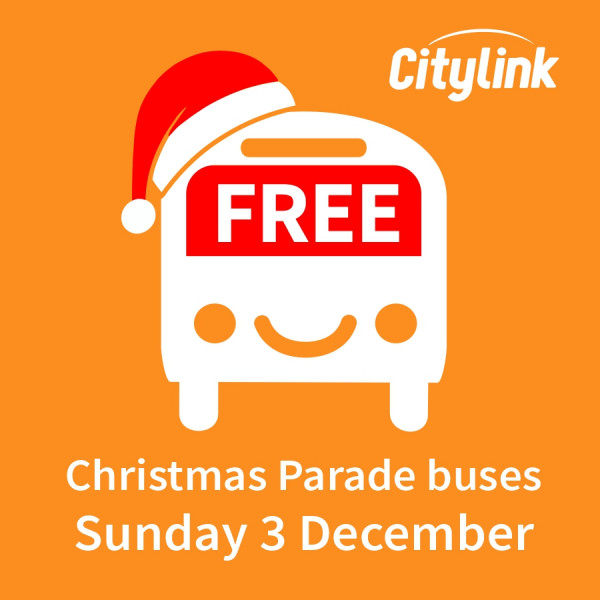 Grab a FREE Citylink bus to the New Plymouth Christmas Parade on Sunday 3rd December!
Route 1 | Moturoa
Route 2 | Whalers Gate
Route 3 | Lynmouth/Marfell
Route 4 | Westown/Hurdon
Route 5 | Frankleigh Park/Ferndale
Route 6 | Vogeltown/Brooklands
Route 7 | Welbourn/Highlands Park
Route 8 | Merrilands/Highlands Park
Route 9 | Fitzroy/The Valley/Glen Avon
Route 20 | Bell Block/Waitara
For the full timetable please click the link below:
New Plymouth Christmas Parade bus services - 3 December 2023 [PDF, 345 KB]
Enjoy extended bus services for three Saturdays in December leading up to Christmas!
2nd December 2023
9th December 2023
16th December 2023
To download Saturday bus timetables please click on the links below:
Citylink | [PDF, 1.4 MB] New Plymouth - Bell Block - Waitara
Connector | Ōpunake - Hāwera - Stratford - Inglewood - New Plymouth [PDF, 433 KB]
You can find information on Taranaki bus fares, zones and Bee Cards here. Our fares are based on how many zones you travel through, so check the zone map below and then refer to th...
Read more...
What you need to know about our Citylink, Connector and Southlink bus services.
Read more...
View our bus routes and timetables for the Citylink New Plymouth school and commuter services, as well as the Southlink and Connector services.
Read more...
What you need to know about using our Citylink, Connector, Your Connector and Southlink bus services.
Read more...
Service announcements, updates and interesting yarns from our region-wide public transport network.
Read more...
Under the Total Mobility scheme, the Council provides transport assistance to help people with impairments to get out and about in their communities.
Read more...
Transport planning involves identifying and managing Taranaki's current and future transport needs.
Read more...
The Council's navigation & safety bylaws aim to make Port Taranaki safe for all users, including bathers and recreational boaties. The Council is also 100% owner of Port Taranaki L...
Read more...