Transit, the free real-time bus app is now available from the App Store and Google Play. All Taranaki buses are now fitted with new GPS devices, which feed real-time bus arrival times through to the Transit app.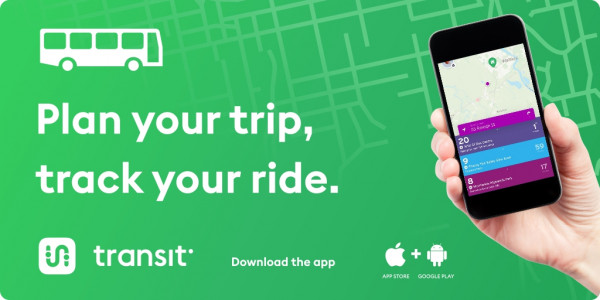 (external link)
Transit
The Transit app allows you to journey plan in real-time. It's available on all Taranaki Regional Council operated bus services; Citylink, The Connector, Your Connector and Southlink.
Buses are fitted with GPS devices which feed real-time bus arrival times through to the app.
Service alerts will be sent through the app for upcoming bus stop closures or diversions, or to let you know about delays. Make sure you turn your notifications on for your favourite routes.
The Transit Realtime app is free to download and easy to use. Available from the App Store(external link) or Google Play(external link).
Transit Royale
We have upgraded to the Transit Royale subscription for all our passengers, so you can use all the features of the Transit App. You are able to upgrade to Royale, at no extra cost.
How can I upgrade to Royale?
Open Transit and scroll through the list of routes on the Main Screen. When you see the crown, tap Upgrade
Do I need to upgrade to Royale?
We highly recommend it! If you don't claim your free upgrade to Royale, your current version of Transit will start to limit certain features that are only accessible through the subscription.
Does Tranist Royale feel different from how Transit works now?
No! For functions like trip planning and checking departures, Royale looks and feels almost exactly the same as before. Royale also introduces new, optional features like GO leaderboards and in-app theme options to customize Transit on your device.
Get started
1. Download the app
The Transit app is free and available on the App Store(external link) or Google Play(external link) You'll need to download it onto your smartphone to get started.
2. Enable location services
Now that you've got the app, you'll need to allow location services/GPS on your device. This is so the app can use your location to tell you where your nearest bus/bus stop is.
3. Find a bus
Now the app knows where you are, it will find your nearest bus or bus stop. A list of services should appear on your home screen. Depending on where you are, it might be just one service, or it could be several if you're in the heart of New Plymouth.
4. Choose a bus
Select the service you want to take. A list of trip options will display - the next bus, and the ones after it. Swipe right to see the journey in the other direction.
5. Get going!
Plan a journey, from start to finish – the app even lets you know when to get off the bus.
Simple as that!