Pukeiti is a flourishing New Zealand rainforest ecosystem nestled amongst the ranges of the Egmont National Park, providing an outstanding venue for environmental education.
The Council's Rainforest School at Pukeiti, enables students to experience firsthand the high diversity of native plants, birds and invertebrates. The rainforest provides an ideal setting to learn about ecological threats and how these threats can be managed to enhance native biodiversity values.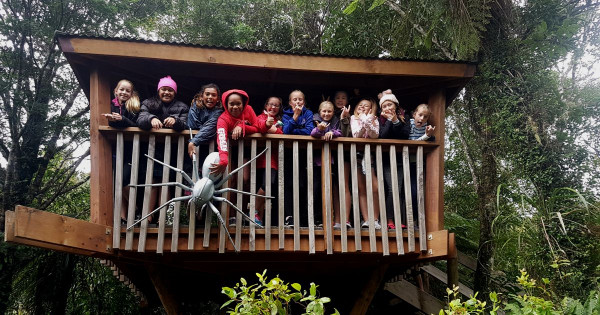 Field trips to Pukeiti typically run between 10am and 2pm and incorporate a rainforest tour and one other activity of the school's choosing. Due to the interactive nature of the visit, we recommend limiting the size of the group to 30 students with appropriate adult help. If you would like to bring a larger group, please get in touch and we can discuss suitable rotation activities.
Students should bring their own lunch and water bottle. The Rata Room will be available for breaks, shelter and bag storage.
Rainforest tour
Students will experience and learn about the diverse range of native animals and plants that live in the rainforest and the action being taken to protect them through the Towards Predator-Free Taranaki programme. The tour incorporates the following components:
Native fish
Tree-top look out
Tree houses
We will spend approximately an hour and a half exploring the rainforest and then return to the Rainforest Centre for lunch.
After-lunch activities
After lunch, you can choose one of the following activities. If you are keen to do another activity in line with your students learning, feel free to get in touch and discuss further.
Pot a plant
This activity makes use of the abundance of native seedlings at Pukeiti.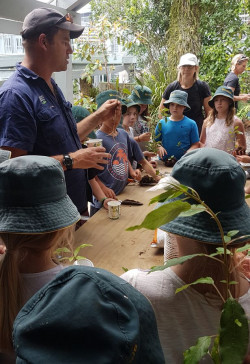 Students will pot their own seedling which they can then take back to plant at school or at home, spreading biodiversity values.
Students will learn:
How to identify native seedlings
How to transplant and pot up the plants
How to care for the plants when taken back home or to school
What wildlife the plants will attract when they are fully grown
Creepy crawlies
Pukeiti provides home to an amazing diversity of invertebrates that play a crucial role in the rainforest ecosystem. They decompose leaves, pollinate plants and provide food for native birds, reptiles and other invertebrates. This activity involves hunting for bugs.
Students will learn:
Methods used to collect creepy crawlies
How to identify invertebrates using iNaturalist NZ and other online guides
The different ecological roles that these species play at Pukeiti
Stream study
The streams that run through Pukeiti are pristine and shaded, providing great habitat for freshwater macroinvertebrates.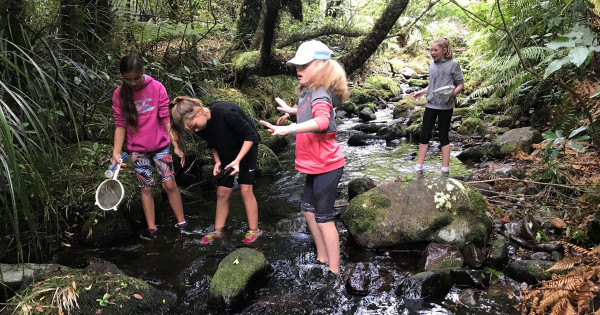 Students will learn:
How to collect and identify stream macroinvertebrates
What role these bugs play in the freshwater ecosystem
How the species present indicate the health of the waterway