Trapping rats, possums and stoats to regenerate local flora and fauna is switching high school students onto the impact they can have on a predator free Taranaki.
A new programme started by TOPEC (Taranaki Outdoor Pursuits and Education Centre) ran from August-October in partnership with Taranaki Regional Council and the Department of Conservation.
Over two months eight students learned about all aspects of pest management and control.
They walked tracks with contractor Morgan Radich, learnt where and how to lay traps, bait to use, and then followed up with monitoring and cleaning the traps. TOPEC instructors taught the students bush survival skills needed for safety in the outdoors.
The programme fits with TOPEC's kaupapa around kaitiakitanga and helps link students with key contacts like the regional council, says Justin Bigwood of TOPEC.
"We have close to 1500 students come through TOPEC every year and we want to get them involved in some way, in caring for our native land."
He says over the term, the students' increasing knowledge and enthusiasm was clear to see, and the programme will run again over two terms in 2021.
One area, Araheke Reserve and stream, borders TOPEC's grounds. The other was Umutekai Wetland, a significant ecosystem in Dorset Rd, north-east of New Plymouth.
The course is hands-on and for many of the students from rural backgrounds, it resonated with their upbringing and future aspirations.
Three came from Opunake High and one each were students at Spotswood College, Stratford High School, Hawera High School, New Plymouth Girls High School and Te Aho o Te Kura Pounamu (Te Kura).
The students said learning about trap design, where to place them and the type of bait were all interesting. All up, they caught 26 predators after the first traps were placed in mid-August.
"We learn what we do in the classroom, and then actively get to learn in a practical way," said Becky Kowaleski from NPGHS, noting that the programme introduced her to the range of environmental related vocations and job possibilities.
Kirsten Booker from Hawera High agreed.
"I have always wanted to work outdoors, but it opened me up to a trapping part of it…whereas I was thinking plants. Now I know about the pest management side."
Contractor Morgan Radich worked alongside the students, describing them as engaged and while the work was not glamorous, she says there is demand for these skills as well as future job opportunities.
TRC staff Matthew Kyle and Jordan Lasenby say the programme was relatively unique in working with Taranaki secondary students as many others are driven by community groups or primary schools.
It is part of Taranaki Taku Tūranga - Towards Predator Free Taranaki, which- launched in 2018 as NZ's first landscape-scale predator control project.
"They are the next generation and having that situational awareness of what's involved and what's at risk, is really important," says Kyle.
"Umutekai wetlands in which we and they are working, is quite a big piece of swamp forest remanent." He says the country has lost many of its wetlands with an estimated 8 to 10 per cent remaining.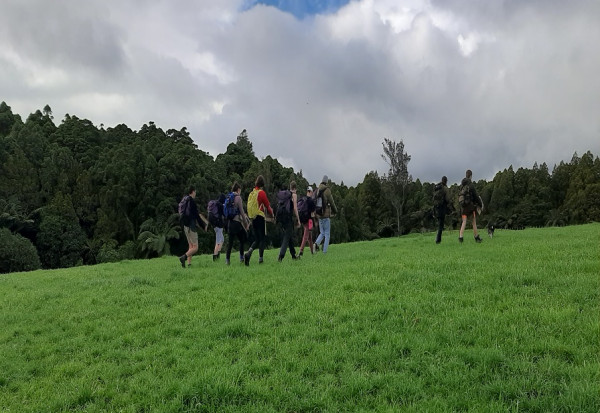 Lasenby says Towards Predator-Free Taranaki is working with the community to remove possums, rats and mustelids (stoats, ferrets and weasels) from urban, rural and public land. Its rural programme is being rolled out around the mountain over a 10-year period, supporting farmers and landowners to set up and maintain mustelid trapping networks.
"We hope to see these students undertake some monitoring. Hopefully as the relationship progresses, we can get kids doing this and doing the monitoring themselves."
While it's too soon to tell what impact the TOPEC programme will have, Lasenby says Towards Predator-Free Taranaki is seeing promising results.
In rural areas targeted so far it has reduced stoat numbers by more than 90% while native birds such as the toutouwai (North Island robin) are returning to areas where they were once thought lost.
"What we do know is when we do predator control it has a positive impact. It's not tangible straight away," says Kyle.
The next step is to measure any resulting increase in improved biodiversity.
STORY SUPPLIED