Keyboard users and screen reader users: After selecting an option from one of the combo boxes below, pressing Tab will take you to the timetable page.
Hāwera-New Plymouth (extending from Ōpunake first service)
Please note the below timetable is effective from Monday 30 October 2023.
Map showing Hāwera-NP Connector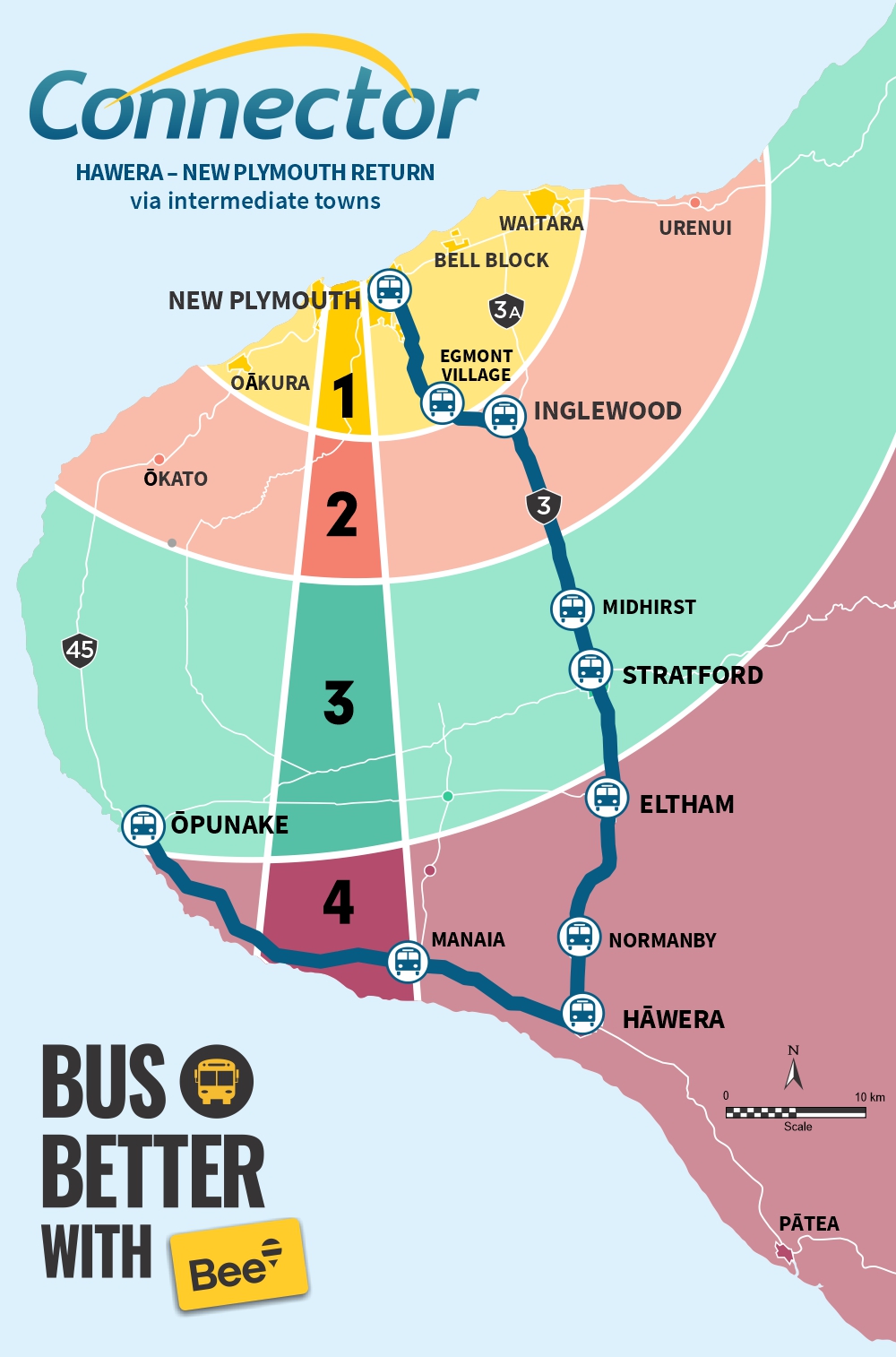 Connector fares & Bee Card information
Fares

Bee Cards
Bee Cards are the preferred method of contactless payment. Bee cards cost $5, plus a minimum top-up of $5. The minimum recharge amount is $5.
They can recharged on the bus (cash only). Cards can be obtained online at www.beecard.co.nz(external link), or from one of our Taranaki retailers:
New Plymouth i-SITE located within the Puke Ariki building on St Aubyn Street, New Plymouth |

10am-5pm daily
Tranzit at 15 Sunley Street, Westown |

8am-5pm Monday to Friday
Bell Block Library at 88 Parklands Avenue |

9am-5pm Monday, Wednesday & Friday, 9am-6pm Tuesday & Thursday, 9am-12pm Saturday
Waitara Library at 15 Queen Street |

9am-5pm Monday, Wednesday & Friday, 9am-6pm Tuesday & Thursday, 9am-12pm Saturday
Stratford i-SITE inside the Stratford Library in Prospero Place |

8.30am-5pm Monday to Friday, 9am-1pm Saturdays
South Taranaki i-SITE at 55 High Street, Hawera |

8.30am-5pm Monday to Friday, 10am-3pm weekends
Pickering Motors Ltd at 11 Tennyson Street, Opunake |

7.30am-5pm Monday to Friday
Links and downloads